Read
Reply for previous Answer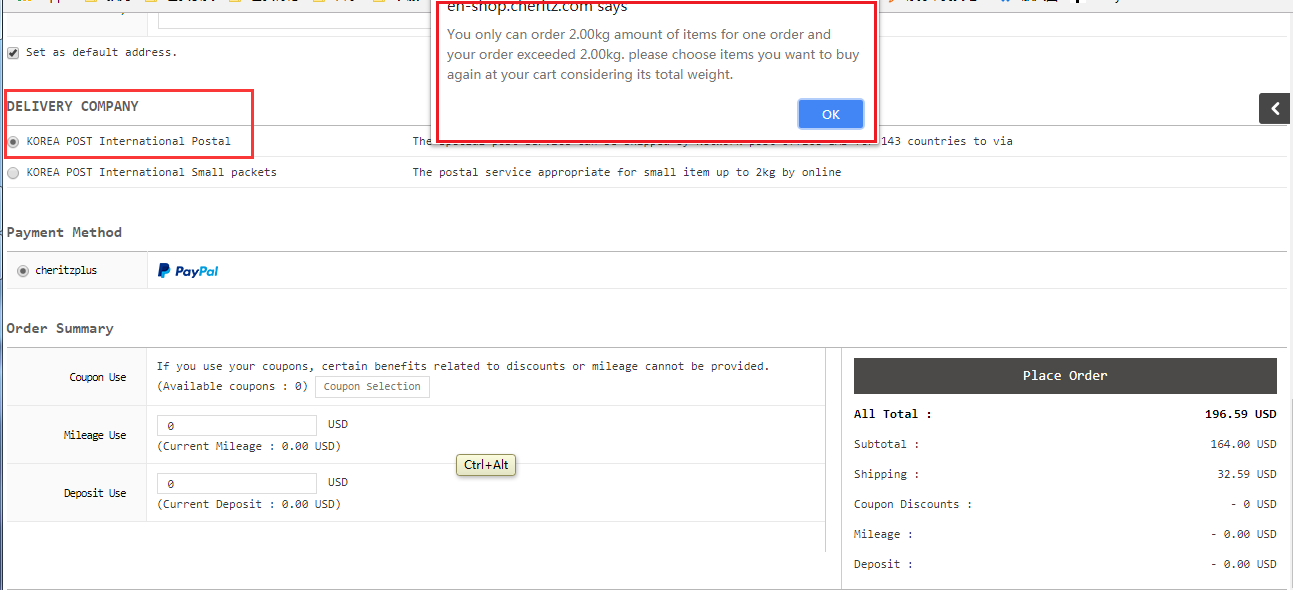 Dear Cheritz
I am sorry that I did not explain clearly in the previous question.
The problem is the website has set K-packet as the default delivery method.
So whenever I try to switch to EMS, an error notice still pops up and I can't enter the payment page.
Please refer to the attached picture.
Thank you so much and look forward to hearing from you.
Comments List

Cheritz Market

Hello, thank you for your inquiry.
This is Cheritz Market.

We will fix the error.
We are sorry for the inconvenience.

Please, try order again for your item.

Thank you.
Have a nice day.
---
List of posts

| No. | Product | Content | Name | Date | Hits |
| --- | --- | --- | --- | --- | --- |
| 51 | | Wrong product in package (1) | Franziska Martins | | 4 |
| 50 | | | Elaf S | | 7427 |
| 49 | | "MinteyeTapestry" (1) | Kristina Korneeva | | 7 |
| 48 | | | Daniela Medrano | | 4953 |
| 47 | | "RFATapestry" (1) | Kristina Korneeva | | 4 |
| 46 | | | Tomato | | 4616 |
| 45 | | | brittany bandit1030 | | 4455 |
| 44 | | I did not receive any of my purchased products. (1) | Emerald | | 3 |
| 43 | | Wrong shipping address (1) | Rider Q | | 2 |
| 42 | | | gglakes@icloud.com | | 4511 |
| 41 | | | Chelsey Roman | | 4732 |
| 40 | | Do you guys ship to Mexico? (1) | Michelle Ramírez | | 4 |
| 39 | | | haneen alobaidi | | 4736 |
| 38 | | | Kristina Korneeva | | 4699 |
| 37 | | | Martina Recio | | 5720 |