Read
Where does my order go?
Name : Natalia Olmo
Hits : 2987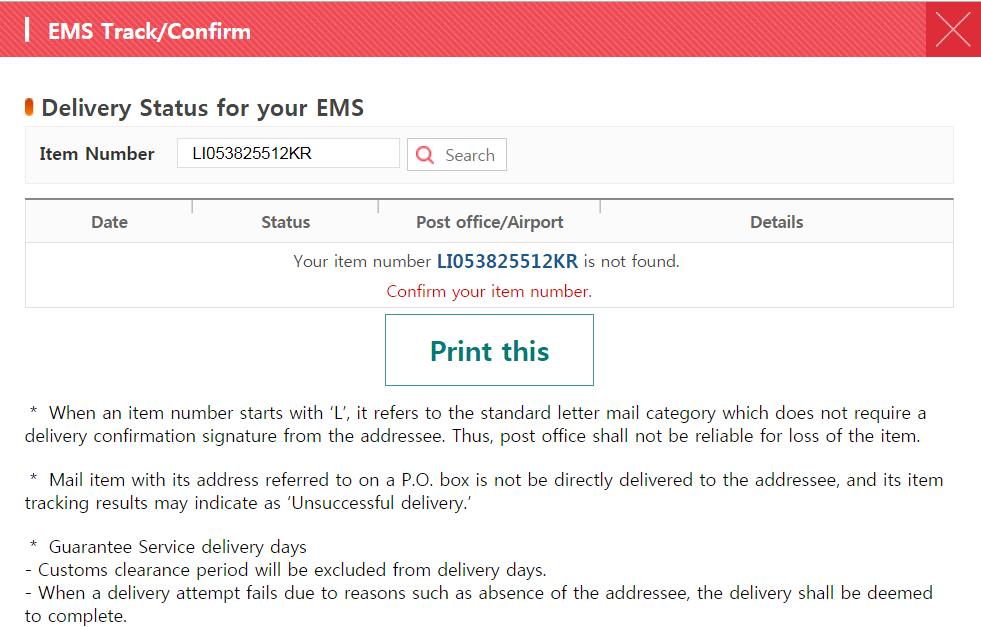 Hello, I wanted to know where my package is because I ordered it in 2019.01.11 and I still do not know anything about the package.
The code is: LI053825512KR
Comments List

Cheritz Market

Hello,
This is Cheritz Market.

Thank you for your inquiry.

Please be informed that even if the tracking number has been confirmed,
it needs three or days to be tracked through the tracking page.

Please track through the tracking number after three or more days to inform the shipping process.


We hope this information is helpful.

Thank you.

Best,
Cheritz.
---
List of posts

| No. | Product | Content | Name | Date | Hits |
| --- | --- | --- | --- | --- | --- |
| 226 | | Restock (1) | Nicole | | 4 |
| 225 | | Activation help. (1) | gottem | | 5 |
| 224 | | I'd like to cancel order (1) | Christine Ng | | 6 |
| 223 | | | HD haydow | | 2941 |
| 222 | | "MysticMessengerLShapeFolder" (1) | Chiyi Kuo | | 4 |
| 221 | | Delayed shipment? (1) | K H | | 5 |
| 220 | | | Martina Recio | | 3052 |
| 219 | | Shipment Update? (1) | kaylee | | 3 |
| 218 | | | Natalia Olmo | | 2987 |
| 217 | | | Lucia Martinez | | 3013 |
| 216 | | | Stephanie Campbell | | 2896 |
| 215 | | | Michelle Ramírez | | 3061 |
| 214 | | Package not received (1) | Michelle Serrato | | 1 |
| 213 | | Do the free talk CDs come with translations? (1) | Fran | | 2 |
| 212 | | What happen and what can I do? (1) | Marcelino Ibarra | | 5 |